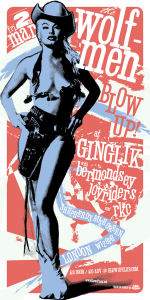 The Wolfmen have added a show for 2nd March at Ginglik, Shepherds Bush Green, London. It's one of those big whoop BLOW UP parties with Bermondsey Joyriders, RKC, and Blow Up DJs, whose names escapes me now, no disrespect.  Tickets are on sale at a whole bunch of places online for £6, or at the door for £8.
The Wolfmen line-up for this show:
C.C.- Vox – acoustic guitar – flute – harmonica
Ciaron – Guitars
Swizzy – Drumming
Vassos – Bass
Si – Keys – percussion – backing vocals
Hari Harmonium – Harmonium
Paul Lips Frazer – Guitar
And featuring Kate Jackson ( The Long Blondes ) aka WOLVERINA – With laser beam heels and high pitched squeals.
It sounds like this whole thing is going to be ridiculous. Why miss it? Out of pride? You dumb jerk. Just go.
Related show